Whats New
 INFORMATION: US Postal rates are going up multiple times per year. If a small amount you will not hear from me, but if significant you will get an e-mail. It is an actual and direct increase in shipping. I still do not use shipping to make money…and never plan to. 
---
New Dealer for Triumph Twin Power Products, Adding items in the next two weeks (9/25/2016) more to come!
---
Fast eddy Sports Information & Links Page
Here is where you can find information of events, new products and helpful Triumph links.
---
New Items and some links to other Triumph sites that you will enjoy and find helpful and Non Triumph Links but good places to deal with listed below.
---
Fast eddy Sports New Additions.
Genuine Triumph Items now available! Listing items will take some time, but if it bolts on, I can get it.
Discounted Items section. On the left hand menu bar, down nine from top, you will find items that are discounted for clearance, or demonstration items or used items. check it out from time to time.
Well, it finally happened! FeS has grown beyond my ability  to do it all myself! Please allow me to introduce my new shipping and all around organizer; Sarah. I will continue to monitor things and have more time for e-mails and product testing and phone calls. I will also be adding another employee in the near future as soon as I find someone and get them trained into "My way" of doing things."
Brand new custom item from FeS for the Triumph Thunderbird and Storm.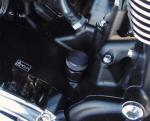 This is a two piece base and oil cap/dipstick made of polished or black anodized billet aluminum. The base section secures to the crank case so that the cap/dipstick portion is raised above this area where debris and dirt collect preventing the risk of debris from falling into the crank case when you check your oil. Quality made in the USA, makes checking oil on the road a breeze and worry free.
---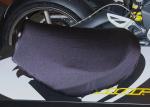 New! Water Proof Seat Cover! Protect that new seat on the long hauls and keep your trip dry. I have personally tested these on almost 4,000 miles of road trip in the rain for hours and over nights in storms, no wet butt! Great Product. If you tour or have a leather seat it is a must to protect your seat and comfort.
---
Events



---
Announcements
Shipping Rates with USPS have been going up frequently, be advised that I try to keep these changes up to date and accurate, sometimes I miss an update and if the change is more than I can absorb I will let you know.